Posted by Staff of goGardenNow on
This article from a Vietnamese online publication caught our eye.
"This is a special moisture-loving herbaceous plant, with a lifespan of up to 100 years, rather slow growth and found at an altitude of 1,200-2,000m above sea level.

"This plant was discovered by scientists in 1973 and officially announced in 1985 with the name Vietnamese ginseng, a completely new type of ginseng in the scientific world."
Posted by Staff of goGardenNow on
We reported on Tuesday, 28 July, about the unsolicited importation of mysterious seeds arriving in the U.S. The packages, some labeled as JEWELRY, are simply appearing in mailboxes across the nation.
Posted by Staff of goGardenNow on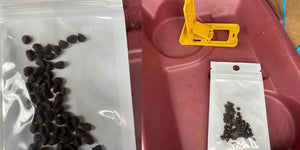 Various news sources are warning residents not to plant any seed they receive unsolicited from unknown sources "because they could be a pathway for introduction of invasive species, insects and plant diseases."